Share Article
What Are the Advantages of Aluminum Frame Ebikes?
Electric bikes can be manufactured using different frame materials. The commonly used ones are: carbon fiber, steel, and aluminum. However, aluminum frame e-bikes seem to be more popular these days, which is due to their numerous benefits. It is most common in newly manufactured modern electric bikes, including Honbike models. The affordability, strength, and lightness make it more adaptable than its alternatives.
Contrary to the magnesium e-bike alloys, aluminum frames are faster because of their lightweight. Thus, aluminum frames have become a criterion for identifying high-quality electric bikes. When selecting an electric bike, you may look out for the 7000 series of aluminum. This is because aluminum frames exist as various series and vary with performance. The 7000 and 6000 series are the two main categories that differ by tempering process. The overall processing cost of the aluminum 7000 series is pretty less expensive, making it more common in electric bikes. This also helps contribute to the affordability of aluminum e-bike frames. You can check this article to learn more about the difference of these two e-bike frames.
Aluminum Frame and Belt Types
Using an aluminum frame with a Carbon Gates belt is an added advantage. Carbon Gates belts are also not prone to wetness, so you will improve your e-bike durability if these two types of components are present. This is not to say aluminum frames are picky in belt types. You only make a better decision when you pick a belt drive over the other. Also, the Carbon Gates belt does not require frequent maintenance like the aluminum frame. Using the chain drive type would reduce your electric bike's durability since it is prone to rust quickly. Meanwhile, the Honbike U4 is built with an aluminum frame and Carbon Gates belt. The electric bike can attain 10,000km without needing maintenance or grease application.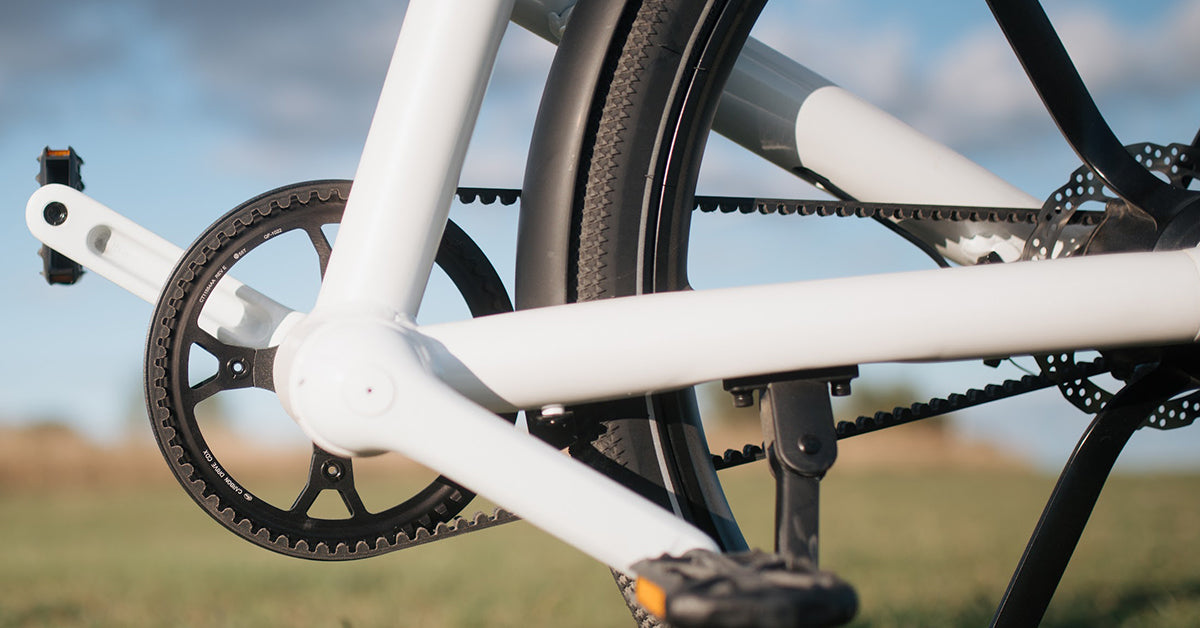 Improved Sturdiness
Aluminum frames have sturdy and high-quality features, allowing riders to remain stable while climbing. This makes it ideal for cyclists who will be riding through high-low areas. They are also thicker than most frame alternatives because they have thick tube walls. Due to its sturdiness, riders can enjoy increased speed while sprinting.
Reduced Production Cost
It costs lesser to produce aluminum frames, which influences its price. Although aluminum frames may not be as cheap as steel, the value is worth the price. Compared to most regular frame versions in electric bikes, aluminum is affordable. Although titanium and carbon fiber frames are cheaper than aluminum frames, the latter is more durable. Since aluminum e-bikes are inexpensive, it allows more people to own electric bikes.
Improved Durability
Aluminum electric bike frames are highly durable due to less susceptibility to rust. Aluminum frames are not prone to rust, unlike steel frame designs. Although aluminum frames may not be inclined to rust, they corrode. The good thing is that any part of the aluminum that corrodes forms aluminum oxide. Thus, not every aluminum aspect is affected, and you can expect it not to rust due to corrosion. Aluminum frames are also easy to maintain since they require no frequent grease application. This, in turn, reduces the operating cost.
A Minimalist Design
An aluminum frame in an electric bicycle can help produce a minimalist design, especially the 7000 series version. This is a premium quality of the newly launched Honbike U4, which has no sharp edges. This gives it a sleek look, making it more attractive to many new generation riders. The lack of sharp edges also increases riders' safety. Every part of a high-quality electric bike should be rounded to prevent sudden casualties.
High Rate of Efficiency
Since aluminum frames are stiff, they do not waste energy while pedaling on your electric bicycle. Due to aluminum stiffness, riders exert enough power on the bike handlebar. When a bicycle frame is loose, it tends to twist when pedaled and is less efficient. A rider may even lose balance instead of being propelled by the electric bike. The thick tubes in aluminum frames also reduce dragging while riding on the road.
Aluminum Frames are Light-weighted
In past years, steel was more commonly used in bicycle frames, but it is being discarded due to its heavy weight. Steel weighs three times much than aluminum. The light-weighted quality of aluminum contributes to e-bike flexibility. In the world today, people want to commute easily, without carrying heavy objects. Since most people often sought for light-weighted e-bikes, manufacturers are employing aluminum frames in production.
Good for Commute 
The lightweight electric bikes have made commuting more effortless, without worrying about parking fees. It also helps riders carry their electric bicycle to their workplaces. This also reduces the chance of getting stuck in traffic and allows riders to maneuver easily. It makes commuting more straightforward, especially for short distances. You can save some gas fees as you visit the nearby grocery store.
Improved Speed
Since aluminum frames have light weights, they operate at a fast speed. It helps riders to pedal faster without being held back by a bike's weight. Since most aluminum electric bikes have aerodynamic designs, it allows riders to maintain balance while riding at a slightly higher speed. However, it would help if you abide by your state's speed regulation. This will prevent you from paying any legal charges.
Conclusion
Once you understand the importance of aluminum electric bike frames, ensure you invest in a premium material. The brand's quality can influence your aluminum bike's durability. You can go through the specification of particular electric bikes to meet your needs better.
---
Related Product
Translation missing: zh-CN.products.general.from_text_html
---
Share Article