Share Article
How to Choose a Safe Cycling Route in the United States
Cycling is a fun activity, yet it is riddled with safety issues, and while some of these accidents may be due to road safety inattention and distraction, wrong route choices can also be to blame. As you might think, it's not bad luck. A possible solution is to find a safe riding route.
How to choose a safe cycling route? Read further on this article for more information.
Tips to Implement at the Route Planning Phase
You need a technology device to document everything you need for a safe ride. Then, calculate the distance for the entire trip to make sure your e-bike doesn't run out of battery halfway through.
Once you have access to a route map, confirm if there is any unpleasant interference. Will you be faced with heavy traffic or not? Another thing you need to ascertain is the steep gradient. Whether you are avoiding an uphill or downhill area, ensure the potential route does not have any of it. Also, your bike model will determine the route you can ride. For instance, the Honbike HF01 is not ideal for mountain riding, you should consider city street or parks.
If you are going on vacation in the United States, you need to consider a route with many views, especially nature scenery. Check if there are stopping points along the bike routes. These stopping stations should serve as a centre for relaxation, and a perfect example is cafe shops.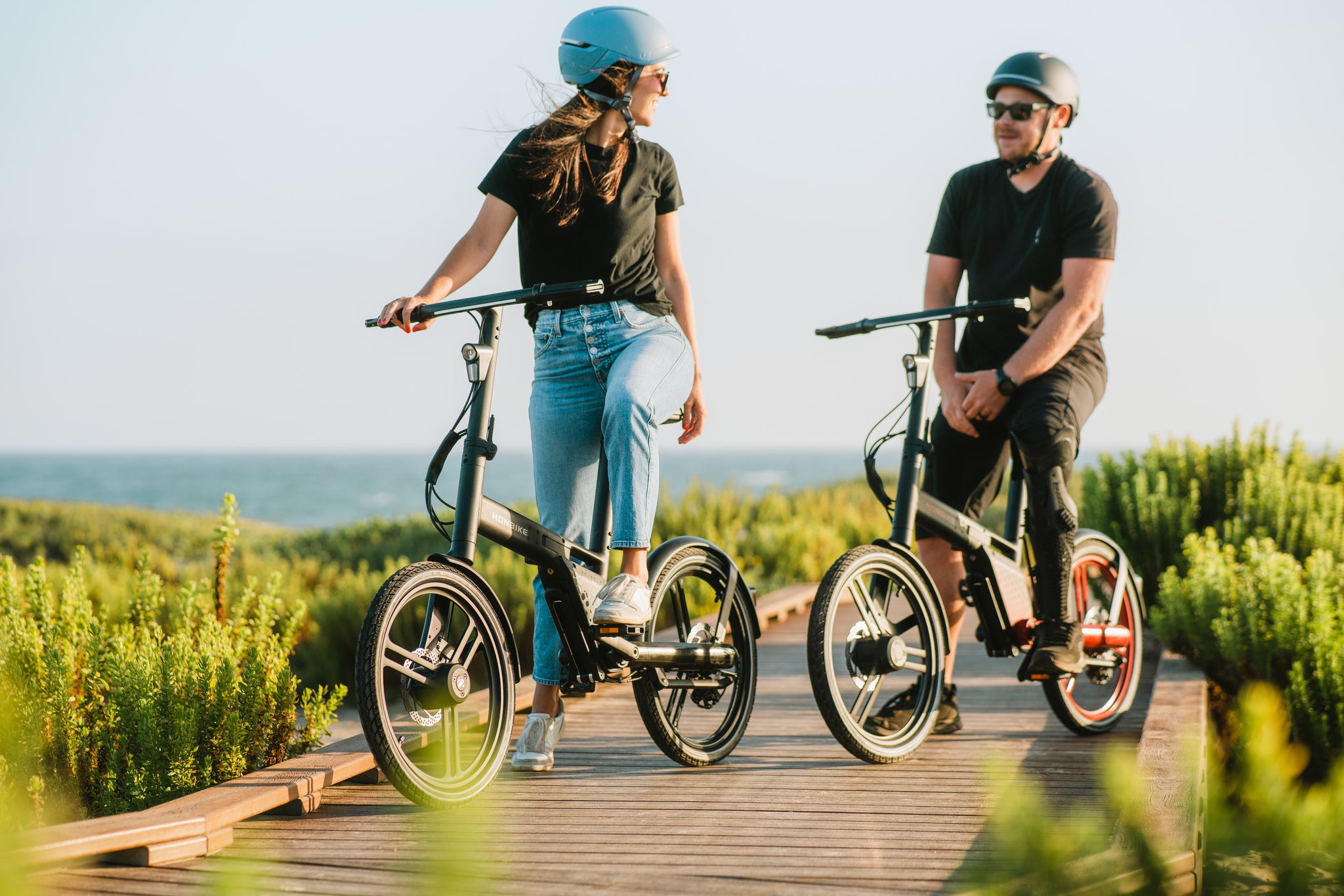 How to Find a Safe Route in the United States
Before you consider a route as being safe, what are the factors to consider? Contrary to popular opinions, the safest route is not usually the shortest route. Developed countries keep the longest routes for cyclists. They are designed with bike paths and lanes. The main reason for notable electric bike routes is to increase pedestrians' safety. However, it also provides a high level of protection for riders.
The United States has authority for each province, so you can first enquire from the local entities. You may also be lucky to be attached to the public transportation system. Although Google map is always available to lead you, it will be much easier if your local data has been updated. After you google the routes in your locality, you will need to choose the most suitable one.
Choosing the Safest Bike Lane
Undoubtedly, most top countries designate specific routes for e-bikes. You will find many routes when you search through your mobile device. Unfortunately, you may come across poorly planned and marked bike lanes in major cities. This is because these cities are overcrowded, and the bike lanes have received little or no attention. You can use some factors to determine the top bike routes above others. These factors are highlighted below.
Cities where bike lanes have physical barriers such as bollards and concrete. The essence of these barriers is to separate the lanes from traffic, especially in congested cities.
You may consider outrightly unique bike lanes. The best way to identify them is when they are painted. Hence, moving vehicles can be alerted to the route they are driving.
The bike lane should not be too close to a car lane. It could have two spaces or a buffer between the lanes.
It is also true that community bike routes are usually safe. This is mainly because the cyclists in such areas would have worked towards ensuring riders' safety. This type of lane usually has decorative signs that are descriptive enough to support riders.
What to Do on a Busy Road?
If you have exhausted all bike lanes options or cannot seem to get the safest choice, you could manage a busy road. However, a busy road is not the best option since you will have many fast-moving cars. Hence, remember that this tip is for people who are left with no choice but to use the busy road.
The foremost tip this article recommends is reducing how you make left turns. This will increase your chance of being predictable to coming vehicles. You should also keep your time short and implement the vehicular cycling skill. This skill will help you maintain a particular speed, improving your riding confidence. A rider must stay alert, especially pedal-assist riders.
Always follow road etiquette, including transport signals. If you are stuck in a queue, avoid jumping in front of other riders. Make sure to signal to other cyclists or pedestrians on the bike path. You may also need to stay away from distracting technology while riding. For instance, you want to stay off social media content such as funny videos. You could be carried away, thereby causing a collision between riders.
The E-bike Trails Across America
There are several bike trails in America, but the top three popular ones are the Southern tier, Northern tier, and the TransAmerica trail. Your current location and destination would determine which route you would be using. It would help if you also remembered that each country in America has its specific tracks. If you want to explore other parts of America and go beyond the United States, here is a section for you.
You will take the Southern route while riding from west to east, which is also the same as California to Florida. The total range of this destination is 4,865 km. Hence, you will need to identify charging ports as you travel along your journey. You may also choose to break the trip with different transport modes. In this case, you will need a foldable e-bike you can easily carry.
The Northern trails cover the ride from Washington to Maine, about 6,873 km. Before you reach Maine, you will pass through some other places. These include New York, Montana, Ohio, Vermont, Idaho, and others. The TransAmerica trail covers rides from Oregon to Virginia. The distance is about 6,777 km, and you will pass through Colorado, Kentucky, Idaho, e.t.c.
The TransAmerica bike trail is popular, which could have been a result of the US's 200th celebration. Since the trail was opened in 1976, it has served many cyclists its summer benefits. Some fantastic bike trails in the United States are:
Jalama Beach Ride at Solvang, CA
Shark Valley Trail at Miami, FL
Lehigh Gorge State Park Trail at Jim Thorpe, PA
Twin Bridges Loop at Bend, OR
Greenville Health System Swamp Rabbit Trail at Greenville, SC
Virginia Creeper Trail at Abingdon, VA
Big Sur at Caramel to Cambria, CA
Conclusion
The United States is an excellent location to explore your adventurous spirit and visit iconic places, while it is recommended that e-bike riders journey with other cyclists. This mainly applies if you are new to an environment. Your ride buddies should be able to explain each road sign and bike markings. By doing so, you may not need the direction from Google maps. It will also be much easier to navigate and locate your destination. You can also maximize the advantage of the local tourist information. 
---
Related Product
Translation missing: zh-CN.products.general.from_text_html
---
Share Article