Share Article
Best Southern California Beach Cycling Routes for E-bikes
Palm trees, sandy beaches, and plenty of tourist attractions. You must be in sunny Southern California. With perfect weather almost all year-round there's no excuse not to bring out the bike and enjoy everything SoCal has to offer on two wheels. Whether while visiting and riding a rental, or bringing your eye-catching chainless & foldable e-bike, you'll be sure to enjoy your ride.
Today we are highlighting some of the best cities and beaches to ride electric bike in Southern California. Chosen for their proximity to the ocean and downtown, these recommended riding routes will have tourists, locals, and everyone in between. Shops, restaurants, and activities are everywhere and easily accessible while using an e-bike to get around. 
These new route suggestions also coincide with our latest new product launch – the Honbike U4 in white or black. Cruise the boardwalk in style with one of the best new e-bikes on the market. With a sleek and minimalist design, long electric range, and Gates Carbon Belt Drive, this bike is sure to turn heads as you ride by. Let's explore a few of the best places to use these bikes: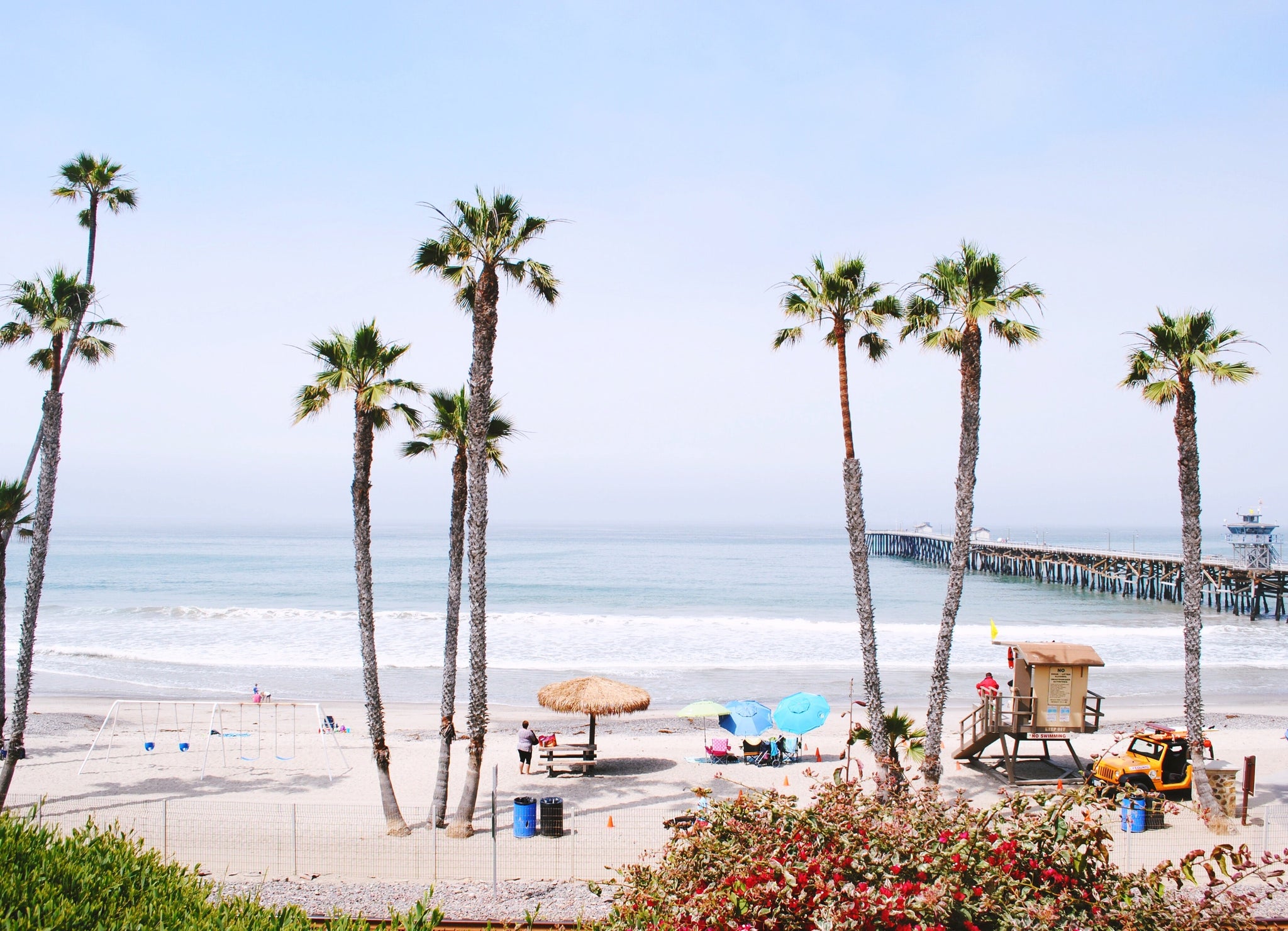 E-bikes in Santa Monica
The population of Santa Monica is well-known for their love of all bikes – including electric! Bike lanes encourage a safe environment and friendly visitors to the beach are welcoming and acquainted with electric bikes like the U4. Cruise on the path with electric power to see landmarks such as the famous Muscle Beach and Baywatch Headquarters. 
A great starting location is Will Rogers State Beach with ample parking and easy access to the beach and bike paths. With an electric folding bike, storing your bike in your car is a breeze and you can take it out and unfold it in seconds. Begin at 17000 CA-1, Pacific Palisades, CA 90272, and ride southwest as you follow the Pacific Coast Highway past lifeguard towers and palm trees dotting the landscape. There are volleyball courts, tennis courts, restrooms, and more along the path to keep you interested.
After just 2 miles of riding, you'll encounter the historic Annenberg Community Beach House, previously known as the Marion Davies Guesthouse, until it was turned into a public beach club. You'll also see Palisades Park with beautiful palm trees and wide-open views for photographs. 
After another 1.5 miles of riding, you'll come to the Santa Monica Pier. Take in the many offerings from the cafes, shops, and amusement park rides on display. There is enough to do and see to fill a whole day at this popular seaside destination or you can keep cruising until you hit Venice Beach – the topic of our next route. The crowds are heaviest at sunset when everyone is eating dinner and watching the waves as the sun dips beyond the horizon. 
E-bikes in Venice Beach
What better place to ride the award-winning Honbike HF01 or our new modified x-frame U4 e-bike than the award-winning beaches of Venice? With up to 90kM of range (55 miles), you won't have to worry one bit about running out of power and ruining your sightseeing thanks to the ultra-long battery life. And the rear hub motor is sidewalk legal, clocking in at 250W (350W in the U.S.), classifying this e-bike as a Class 1. Whether you started from Santa Monica or are just beginning in Venice Beach, we've got just the route for you. 
Riding southwest from artsy Venice Beach will take you right past the famous Venice Beach Skatepark with skateboarders cruising in and out of pools and steep transitions performing tricks. This will get you to the start of the Venice Beach bike, skate, and walking trail. It is most populated on the weekends in the summer but can be crowded any time of week or day so watch out for hikers and other riders. 
Cruise out and around Marina Del Ray to head towards Manhattan Beach. After about an hour of riding this ten-mile single track, you'll see why the Pacific Ocean is so well-known for its beaches and coastline. Picturesque white sand and perfect waves as far as the eye can see. You'll end at Manhattan Beach Pier where you can turn around and head back to Venice or continue towards our final cycling destination, Roessler Point. 
E-bikes in Roessler Point
Getting to Roessler Point after passing through Manhattan Beach is going to be for more experienced riders only. It's a 7-mile single-track ride ending in a relatively unknown but beautiful lookout gazebo where you can see all the way to Malibu. To get there, continue riding south along the beach until you can turn left on Paseo De La Playa as the road starts to curve upwards. Use caution because there is no bike lane although plenty of bikers use the road constantly.
It is recommended to use a long-range commuter bike like the Honbike U4 because it has Uphill Assist with Gyroscope to ensure power kicks in when needed. As you climb the road, you'll notice the view getting better and better. Turn right onto Palos Verdes and stay on it for about half a mile before turning right onto Via Corta. Make a slight right onto Malaga Cove Trail and you'll see the beautiful gazebo lookout. 
California Beach Bike Safety Tips
These scenic routes are perfect for anyone looking to experience Southern California from atop a smooth and comfortable e-bike. But as with all popular biking destinations, there are certain precautions to take when riding near so many people. Always ride with traffic, never against it. Preferably you can stay on the bike paths connecting these famous beaches. You are allowed to leave the bike paths, but you cannot ride on sidewalks designated for pedestrians only.
Watch for cars backing up or at traffic lights and stop signs. Make eye contact with the drivers to ensure they see you before proceeding. Finally, always wear a helmet. They are required for anyone under the age of 18, but we highly recommend them for every age. For more important safety tips, check out our recent article Safety Tips for Summer Travel with Electric Bikes.
We hope you check out and enjoy these e-bike cycling routes conveniently located near some of Southern California's best beaches. 
---
Related Product
Translation missing: zh-CN.products.general.from_text_html
---
Share Article